We feel downright privileged to have been inducted into the 30% club! When we first arrived in Alaska, we had no idea such a club existed. The chalets where we worked were usually the final destination for our guests. They had already explored Fairbanks, Denali National Park and Anchorage. The Kenai Peninsula was the end of their adventures. Time after time, we heard stories of visiting Denali NP only to be terribly disappointed they didn't get to see Mt. Denali. I mean, after all, it IS the tallest mountain on the continent – how can you not see it?!?!?
Mt Denali is 20,310 feet tall, that's about 3 1/2 miles. Its 2 peaks are over 2 1/2 miles apart. It's hard to imagine you couldn't see it! But the fact is, given its location and size, it creates its own weather.
"Denali is so massive that it generates its own weather; much the way a huge boulder submerged in a river creates whitewater rapids. All mountains deflect air masses and influence local conditions, but Denali rises so abruptly and so high that this effect is more dramatic here than perhaps anywhere else on Earth. Storms barrel in from the Gulf of Alaska and the Bering Sea and collide with Denali's towering mass. Weather can quickly change from sunny and clear to blizzard conditions with fierce winds, intense cold, and heavy snowfall."
                                                         From The Alaska Range and Denali: Geology and Orogeny
This pattern of weather convergences means it can be sunny and 70˚ in town and Mt Denali could be obscured by fog and clouds. It's estimated only 30% of visitors actually get to see Mt. Denali. We were in that 30% – FOR 3 DAYS IN A ROW!!!!   Denali means "the high one" in Koyukon, a subset of the Athabaskan language family, sometimes thought to mean "the great one." Every time we got to see Mt Denali, I was in awe.
The park has an incredible history and many of the stories can be found here.
The First 15 Miles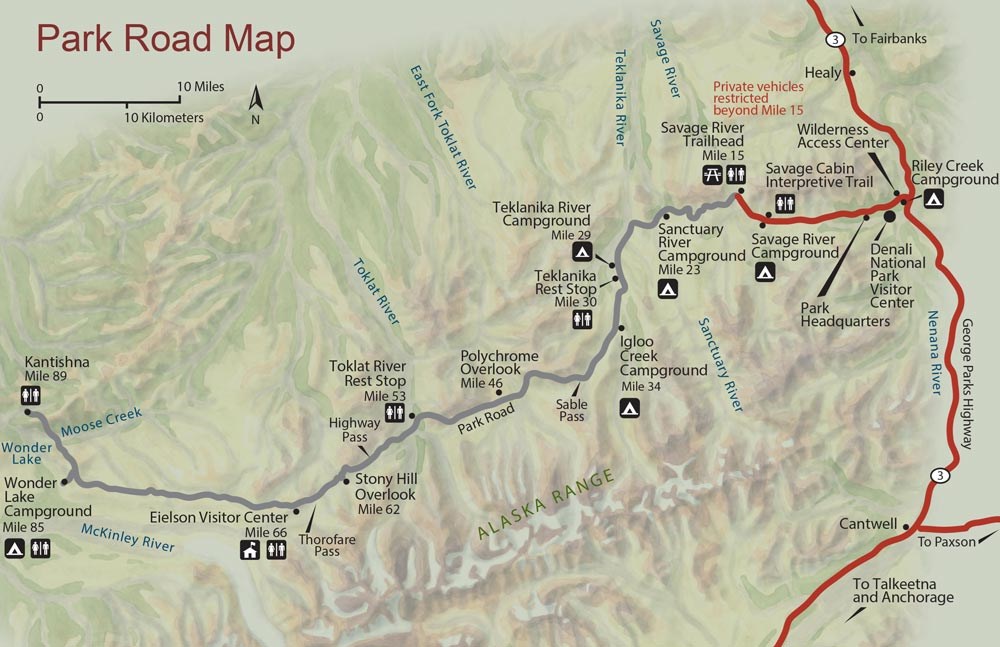 Private vehicles can only be driven on the first 15 miles of the 92 mile park road. To go beyond Savage River, you must take the park shuttle or hike. We spent our first day driving those 15 miles and seeing all we could see…
It was strange how the left side of the park was in bathed in dappled sun while the right side was shrouded in clouds. There would be no view of Denali today, but, we did get to see some informative signage…
And when we made it to Savage River, we were treated with a surprise…
We weren't worried we didn't see any wildlife on the first day. Guided by the weather forecast, the next day we planned a trip on the shuttle to the Eielson Visitor's Center – Park Road Mile 66.
The First 66 Miles
We opted for the transit bus, as opposed to the narrated tour bus. The up side of the transit bus is you can disembark, hike, then grab another bus, while you have to remain on the tour bus. We promptly departed at 7:30am, along with 58 of our newest friends. Our shuttle driver Annie filled us in on what to expect, she said we'd stop for all wildlife sightings and several scenic overlooks, in addition to potty breaks for the 8 hour ride.
Our first view of Mt Denali was over the mist settled in the valley. But, we had seen it! Already a member! As the morning worn on, we stopped for several wildlife encounters…
It was a bit frustrating for me, jostling for a view out the window, but we made it work.
Are you noticing a pattern? Lots of dots. The colors on the mountains reminded me of Death Valley, except this color came from brightly colored fall foliage instead of minerals…
A good part of our day was spent taking pictures like this…
At mile 46, we stopped to check out Polychrome Overlook. The myriad of colors were astounding…
We also stopped along the route for the iconic picture of the park road with Mt Denali in the background. Yes, everyone else has taken this picture, but I couldn't resist…
We did get a closer view of some grizzly bears, but unfortunately, the sun was shining toward us and the bears ended up with a halo…
We also saw a couple moose in the distance…
And lots more "dots" on the mountains…
I loved watching this group of caribou. With winter around the corner, they are beginning to shed the velvet covering their antlers. It's  not a good picture, but the antlers were almost orange…
The views, despite being out the window, were breathtaking…
When we arrived at the Eielson Vistor's Center, Mt Denali provided an amazing backdrop…
We decided to stay at the vistor's center and catch a later shuttle. We were treated with a couple minutes of solitude before the next bus arrived. While we were basking in the splendor of Mt Denali, some of the wildlife posed for a closeup…
The park rangers go to great length to educate the public about the dangers of feeding ANY of the animals. Annie had reminded us time and again, it was best to eat on the bus so as not to leave so much as a crumb for the critters. But, you know people, some of them just can't help themselves.
We walked along the trail and looked back at the visitor center…
And ahead to the 33 more miles to the base of Mt Denali…
One of the interesting things about Denali NP is the fact it is a "trail-less" park, with a few exceptions near the entrance. People are encouraged to find their own path. Go out and walk on the tundra. Feel the springiness of it under you feet. Enjoy it in your own responsible way.
It was time to head back. We had seen everything we had hoped to except the wolves. Pretty darn good day!
Up next…Cruising the Denali Highway and Abandon Igloos
Are you a member of the 30% club? Did you even know there is such a thing? I'd love to hear your thoughts.